Below you can learn more about our instructor's backgrounds. Our instructors work hard to create a supportive environment where our students feel confident!
Our experienced, caring teachers would love to welcome you to Scoil Rince Branwen Irish Dance!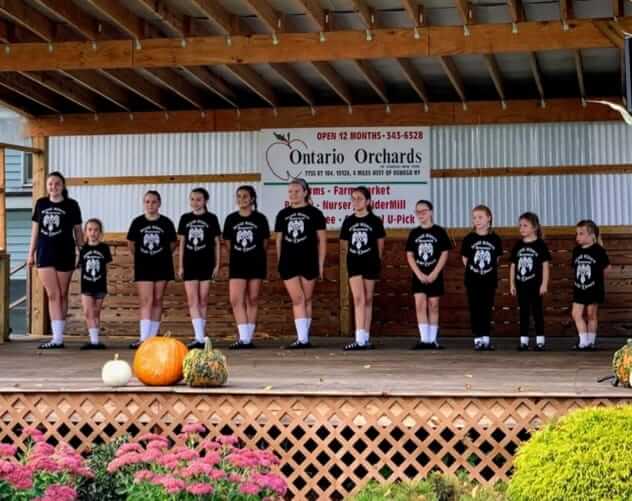 Founder and Instructor Sue began Irish dancing when she was 5 years old with the Penrose Academy, directed by Desmond Penrose, ADCRG. After receiving his training in Ireland, Mr. Penrose immigrated to the US and established several schools in the Syracuse and Rochester areas. "'Dessie' was considered by many to be the founding father of Irish Dance in Central and Western NY" (Cullianan, Dr. J., Aspects of the History of Irish Dancing In North America). Upon Mr. Penrose' retirement, Charlie Young, TCRG acquired the school and formed the Young School of Irish Dance. While dancing with the Young School, Sue became a championship dancer, qualifying to compete in the World Championships on several occasions.
Scoil Rince Branwen Irish Dance was established in 2015 with classes in Baldwinsville, NY.
Sue obtained her TCRG (Irish Dancing Certification) from An Coimisiún Le Rincí Gaelacha (the Irish Dancing Commission) in Dublin, Ireland.
Instructor Kaitlyn began Irish Dancing at the age of six, dancing for the Johnston School and Francis Academy in Syracuse, NY. She had a very successful competitive career competing in solos and ceili competitions throughout North America, Ireland, England and Scotland.  At the age of nine, Kaitlyn placed top 10 at the Midatlantic Regional Oireachtas and at the North American Championships. Kaitlyn's biggest accomplishment was in 2011 when she placed eighth at the Worlds Championships in Dublin, Ireland and received a Gold Seal Award from the Onondaga County Legislature for this achievement. She spent three years dancing in a production called Studio2Stage at Keane University in NJ and in 2016 was chosen as one of the shows dance captains.
Besides competing in Irish Dance, Kaitlyn has enjoyed dancing throughout the community especially for Carrie Lazarus Live, The Chieftains, Syracuse Symphony and with Danny O'Donnell at the Landmark Theatre.